What's New with LG Home Entertainment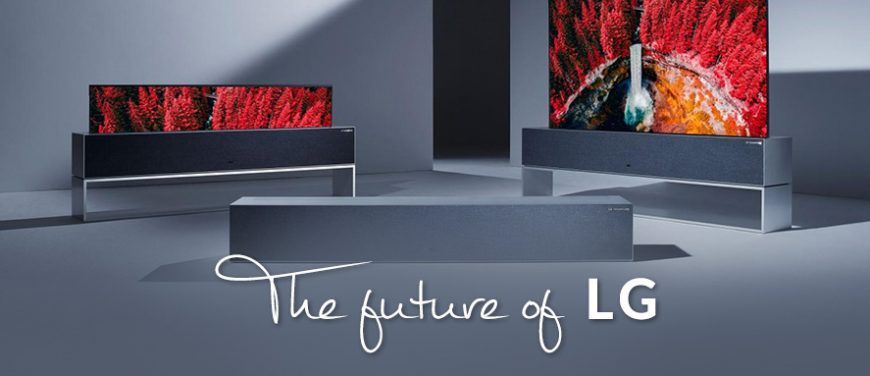 Smart home entertainment is on everyone's lips. Whether you love watching award-winning blockbusters, live sports matches or game late into the night, your TV and audio system has to live up to your expectations.
Ringing in 2020, LG have released some information on their new range of TV and audio technology and products. We've got all the updates to share, check them out below.
AI Picture & Sound Processor
Harnessing the power of machine learning, artificial intelligence (AI) enhances the visual and audio experience through processors and programs. Using AI Deep Learning, LG have designed technology that optimises content, including:
– Face Enhancing: the TV's processor uses Deep Learning algorithms to sharpen the face, making it brighter with more detail.
– AI 8K Upscaling: the TV's processor enhances the sharpness of images for an improved visual output.
– Text Upscaling: the TV's processor recognises on-screen text then fine-tunes and sharpens it.
– Auto Genre Selection adjusts the picture mode to suit the genre, such as Cinema, Sports, Standard and Animation.
– AI Sound Pro (Clear Voice) provides clear speech audio.
LG have summarised their 'Deep Learning' processes as technology that analyses image quality alongside shape and context to display clearer picture quality.
Best TV for Games, Movies & Sports
There's something to cater for everyone. Movie fanatics, sports enthusiasts and gamers will love the various new technologies that will change how your favourite content is enjoyed.
LG's OLED and Nano Cell TVs are best for gaming with top-of-the-line gaming technology including:
– NVIDIA G-Sync (provides smooth, high-quality images and higher refresh rates)
– AMD FreeSync (for a tear free experience)
– 1ms Response Time: where a pixel change that gets displayed on the screen only takes 1 millisecond.
– Less Input Lag: when there's reduced time between a movement that's been made on a controller, keyboard or mouse and that movement being displayed on screen.
Watch high-action dramas, sci-fi and nature documentaries and feel like you're there thanks to the Filmmaker Mode™. The Filmmaker Mode™ disables post-processing effects to maintain the intended image quality. Meanwhile, the new Dolby Vision IQ adjusts brightness to match the room brightness, this is also useful when watching sports – so you can see all the action even if the room is bright from the afternoon sun.
The newly released OLED Motion Pro technology adds a black frame between every other frame which improves motion handling. The only disadvantage is that some of the images may become darker.
Small screen or large screen? When it comes to choosing your next TV size, larger is simply a
no-brainer. 65" screens are the new normal with sales for this size flying out the door. Similarly, 75" TV sales are rapidly growing. Need help deciding what screen size is right for you? Let our TV Viewing Guide point you in the right direction.
8K TV
Watch bigger, brighter and clearer like never before with 8K resolution. With 4 times the resolution of 4K Ultra HD, experience all your favourite content with life-like quality. As 8K becomes more accessible, LG TVs lets you enjoy 8K in your home with its AI Upscaling.
– Graphic Upscaling: LG's Deep Learning systems sharpen and enhance the graphics for an improved picture quality
– Text Upscaling: the TV's processor recognises on-screen text then fine-tunes and sharpens it.

Above: 8K Upscaling with a9 Gen 2 Intelligent Processor
Connect Everything
Feel connected and be connected with a host of user convenience features including:
– Smart control via ThinQ AI voice recognition, now with 20 languages
– The new hands-free voice control
– The new Sport Alert feature notifies you of your sport teams' scores or status. You can even get alerts before the game starts and choose from a selection of teams from categories including Basketball, Soccer, Hockey and Cricket.
– An upgrade to the new webOS operating system lets you access more content providers, such as Prime Video, HBO and Disney+ in addition to Netflix & YouTube.
Distinctive Design
Say hello to modern, stunning design that will be a stand-out in your home. LG have three flagship TV designs that will fit right into your home:
– Rollable TV (65" RX): modern frame design that combines technology with maximum space through a rollable OLED display.
– Sculpture TV (88" ZX): looks like an art sculpture in its own right.
– Gallery TV (77" ZX and GX series): can be set on a stand or wall mounted like a piece of art.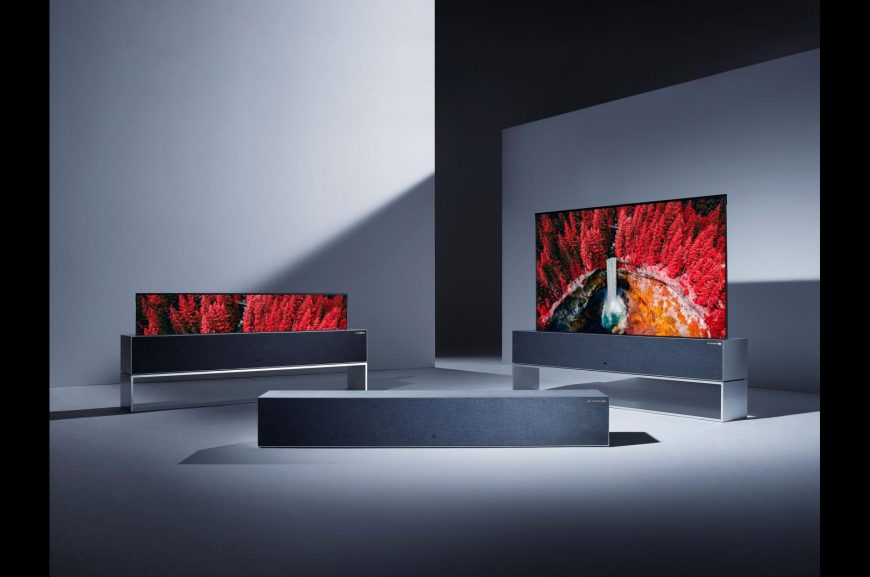 Above: LG's 65" Rollable TV
Audio Experience
Turn up the beat with new and improved portable speakers. With the goal to better facilitate the audio experience, connectivity and making get-togethers fun, LG's audio direction is bigger and better.
LG's new range of portable speakers features an evolved design that's less industrial and more consumer friendly. The tilted angle design allows better sound distribution and the compact cylindrical design flashes with lighting. Enjoy high resolution audio for longer with batteries that last up to 24 hours.
Get an improved party experience with more party features and simplified app useability, so you can enjoy the tunes all night long.
The Future is Near
However you do home entertainment, from hosting movie nights to daily indulgence in reality TV shows, LG's range of TV and audio products will satisfy all your needs. View product features, read consumer reviews and find your local retailer on LG TVs here and let your ears sail with LG's range of audio products.
Stay up to date by following us on Facebook and Instagram to get the hottest updates as they come.