Roast Pork with Salsa Verde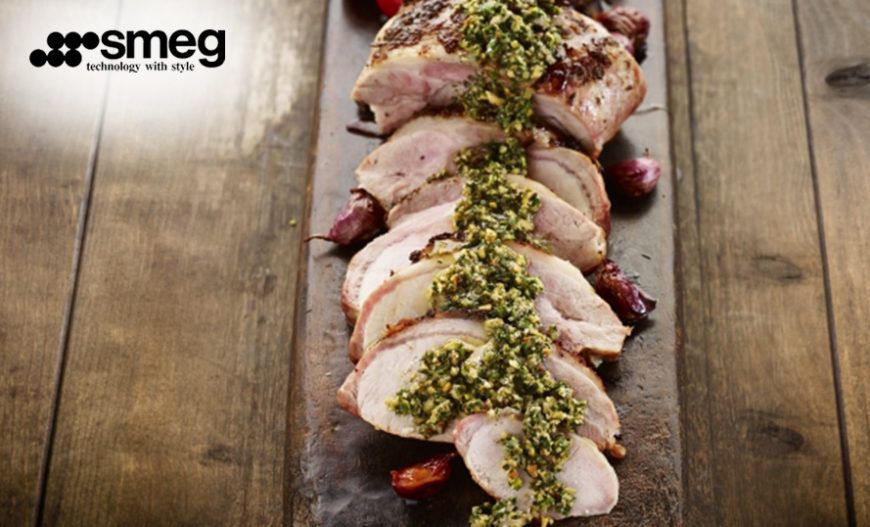 INGREDIENTS
Roast Pork
1.5kg pork loin roast
1 head garlic, separated into cloves, unpeeled
1 tablespoon Dijon mustard
2 tablespoons olive oil
Roasted cherry tomatoes, to serve
Roasted potatoes, to serve
Salsa Verde
2 cloves garlic, peeled
1 tablespoon capers, drained
1/3 cup pistachio nuts, toasted
4 anchovy fillets
1 cup flat-leaf parsley leaves
1/2 cup basil leaves
1/4 cup mint leaves
2 tablespoons red wine vinegar
1/4 cup olive oil
METHOD
Step 1.
Preheat oven to 180°C.
Step 2.
Score the pork rind finely with a sharp knife. Place garlic cloves in a large baking dish and top with pork. Spread pork with mustard, drizzle with olive oil and season with salt and pepper.
Step 3.
Roast for 1 hour or until the juices run clear when pierced a skewer. Remove and rest uncovered in a warm place.
Step 4.
While the pork is roasting, make the salsa verde by combining garlic, capers, pistachio nuts, anchovies, herbs and red wine vinegar in a food processor or blender until roughly chopped. With the motor running add olive oil and mix until just combined. Season to taste with salt and pepper.
Step 5.
To serve, slice pork thickly and arrange on a serving platter. Top with salsa verde and serve with roasted cherry tomatoes and potatoes.
Serves 6
View The Smeg Range