New Hisense 2020 TVs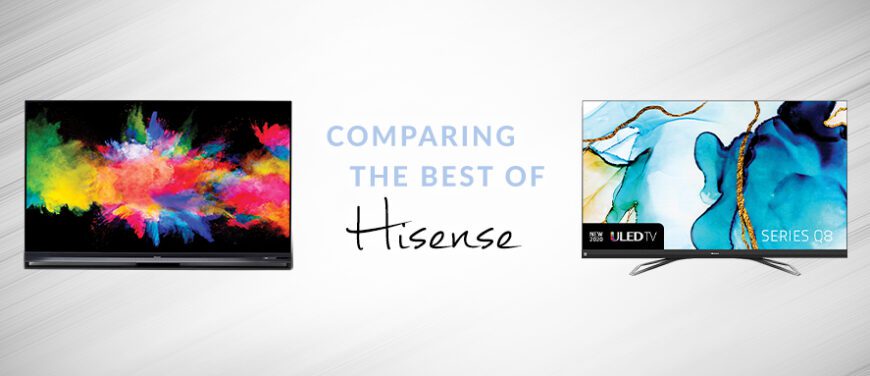 Buying a new TV can be a big decision. With so many brands, technologies, features and let's not forget your own viewing needs, it may be difficult to weave your way through all the TVs on the market.
To help make your TV purchasing decision easier, we've placed 2x new Hisense TVs under the microscope. Below, we break down each TV's offering to see which TV is best suited for varying home entertainment needs.
Hisense 65SX 4K Dual Cell Smart TV
The latest addition to Hisense's range of 2020 TV models, the 65SX has only just hit retailer shelves in September.
Dual Cell Technology is the largest drawcard of this stunning 4K Smart TV. If you're wondering what Dual Cell Technology is and how it can benefit you, below we explain what it is:
Dual Cell Technology is the use of two screen panels, the first is a colour panel with a second, monochrome (black and white) panel behind it.
As the two panels combine, there is incredible light control to create 'near-perfect' black. Once this 'near-perfect' black is achieved, all colours
can shine through vividly, producing pure colours with amazing realism.
Aside from the adventurous display of colour, the Hisense 65SX boasts a new AI upscaling program called Hi-View Engine. Hi-View Engine uses AI to identify gaps in the images that needs upscaling before it improves it by way of increasing sharpness, reducing graininess, showing detail and improving colours.
With this 65SX 4K Smart TV, Hisense have thought of it all. To ensure your audio experience perfectly complements the visual, this TV comes equipped with its own 4.1" wireless subwoofer designed into the TV stand. Hidden from view behind the screen, the subwoofer provides intense bass to your favourite tunes and low-end rumble to movies and games. For your convenience, the subwoofer can be placed anywhere in the room, providing the same amazing audio experience even if you choose to wall mount your TV.
Vibrant colours and immersive sound, the 65SX includes all the smart TV functions and features you know and love including Wide Colour Gamut, VIDAA smart operating system, voice control, Dolby Vision and Dolby Atmos and 200 Smooth Motion Rate. For the most avid of TV viewers, whether you're indulging in the latest TV shows, streaming movies, enjoying live sport or gaming with friends, this Hisense 65SX TV provides the ultimate home entertainment package.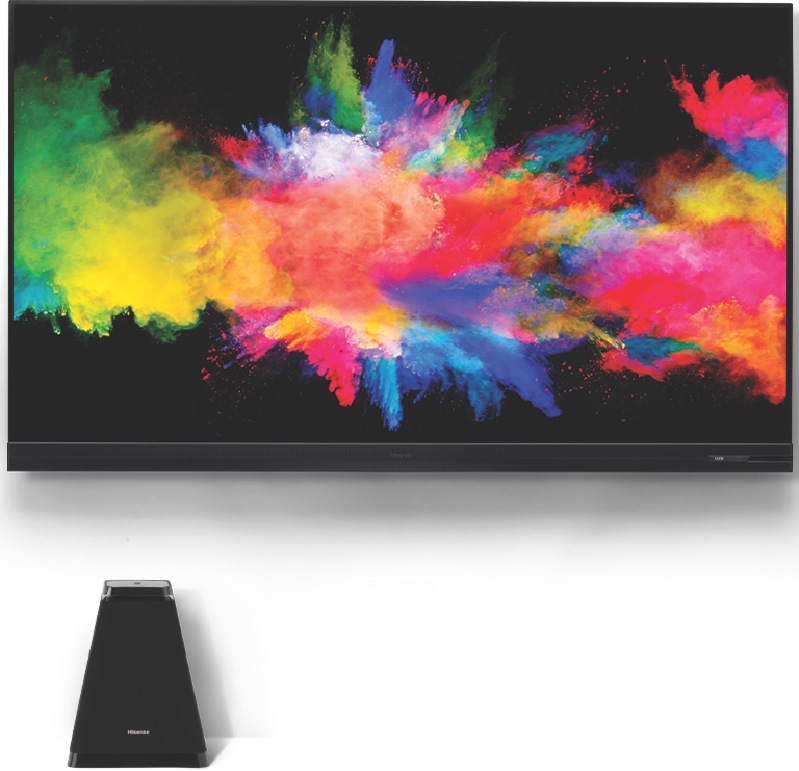 (Above): The Hisense 65SX provides powerful sound with its 4.1" wireless subwoofer.
Hisense 65Q8 4K ULED Smart TV
Released in April of 2020, the Hisense 65Q8 is a crowd pleaser for the household that enjoys viewing everyday content, whether it's free-to-air TV, gaming or streaming from popular streaming providers. This TV features a ULED panel, also known as Ultra-Light Emitting Diode, which has a backlight to project stunning colours. It is worth noting that the ULED panel consists of only one panel (unlike Dual Cell Technology).
Enjoy the latest content in 4K Ultra HD resolution while older content can be enhanced and upscaled with help from the 4K AI Upscaler. By using the power of AI, this TV analyses every frame to adjust pixels, as well as optimising colours and brightness levels so that you can watch low-resolution content clearly.
A home entertainment experience is not complete without sensational sound. With the 65Q8, enjoy cinematic sound thanks to the built-in JBL speaker. The TV's front-firing speaker features two sets of woofers and tweeters which deliver rich sound, with powerful bass and crystal-clear high notes to transport you right to the action. A sports match, a night at the 'opera' or getting close and personal with your favourite characters, whatever the scene, hear it clearer with front-firing speakers.
Immersive colours and surround-like sound, this Hisense 65Q8 smart TV comes jam-packed with all the technologies and features you would expect including Dolby Vision High Dynamic Range, Dolby Atmos, VIDAA smart operating system and voice control. If you and your family want to make the most of every day viewing, then this Hisense 65Q8 TV is the TV that will keep everyone happy.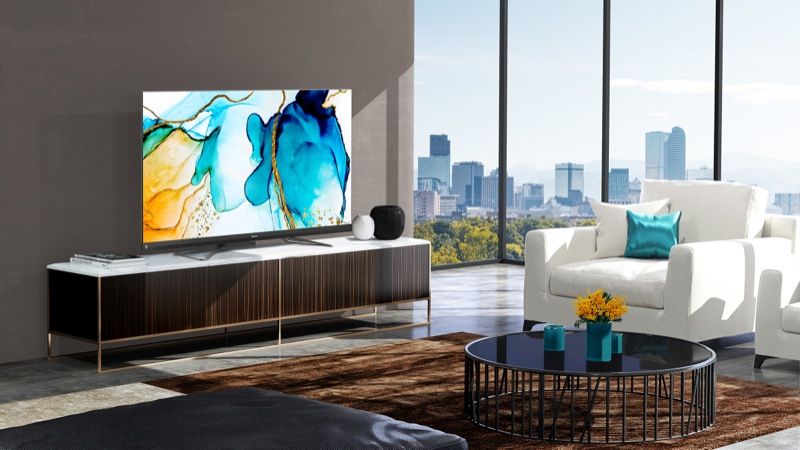 (Above): In a slim and stylish design, the Hisense 65Q8 will complement any living space.
Let's compare the pair!
Hisense 65SX
Hisense 65Q8
Screen Panel Technology
Dual Cell Technology
ULED (Ultra-Light Emitting Diode)
Processor
Quad Core
Quad Core
Upscaling Technologies
Hi-View Engine
4K AI Upscaler
Imaging Processing
Dual Cell Technology
Full Array Local Dimming Pro
Audio Technologies
Dolby Atmos
Dolby Atmos
Wide Colour Gamut
Yes
Yes
Smooth Motion Rate
200
200
User Interface
VIDAA 4
VIDAA 4
UHD (4K) streaming
Yes
Yes
Alexa Built-In & Google Assistant Ready
Yes
Yes
Bluetooth
Yes
Yes
RemoteNow app supported
Yes
Yes
HDMI Inputs
4
4
USB Inputs
2
2
Wall Mountable
Yes
Yes
Best Suited For
If you're after a world-class home entertainment experience with unmatched picture and audio quality
If you're upgrading your TV to a smart TV and want high resolution viewing
Are you ready to experience the best in home entertainment? Whether you're ready to buy or need to find out more information, we've got the latest information to keep you informed on the biggest name brands, the newest technologies and more. View product features, read real consumer reviews and then find your desired TV at your local retailer or shop online.

UPGRADE YOUR HOME ENTERTAINMENT TODAY