Only the Best for Mum, Mother's Day 2020 Gift Guide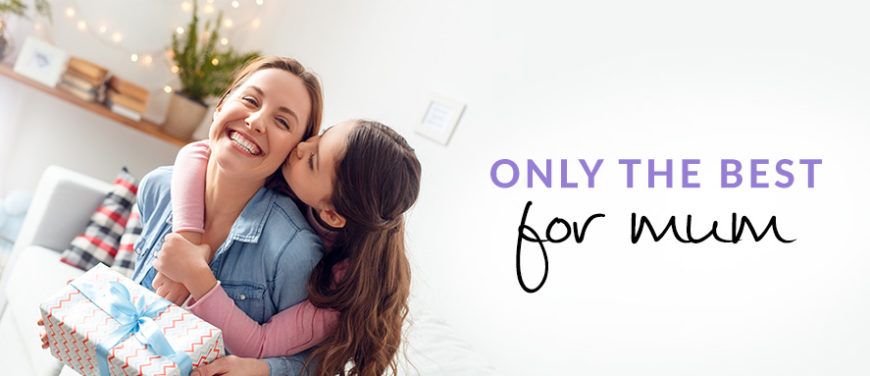 Mum. She's been there from the beginning. Whether she's your inspiration, your confidant or your best friend, she deserves nothing but the best this Mother's Day. If you're lucky to see mum this Mother's Day, nothing will make her happier than seeing you with her new favourite gadget. If borders can't be crossed, our gift guide is the perfect place to start. View, read reviews, locate your local retailer or buy online and deliver it to mum in time for Mother's Day.
The Best Breakfast
Spoil mum with the perfect home-made breakfast, helped by our selection of toasty breakfast appliances.
Craft the perfect cup of coffee with Sunbeam's Barista Max Espresso Machine. Simple to use, mum can make her favourite cup of coffee in a matter of minutes. The Barista Max's integrated grinder and user-friendly interface means mum's coffee can be made the way she likes. The powerful steam wand creates beautiful texturized milk for the perfect latte!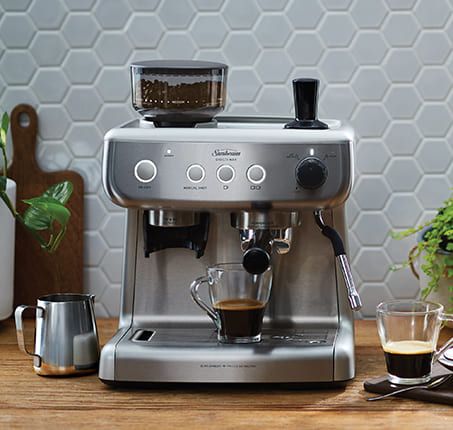 Complete mum's breakfast with a matching kettle and toaster pair: Sunbeam's Maestro Dark Quiet Shield™ Kettle and 2-Slice Toaster. Quickly and quietly boil water for tea thanks to the 2400W kettle element and serve up bread that mum likes, with six toast settings to suit everything from sliced bread to raisin toast and crumpets.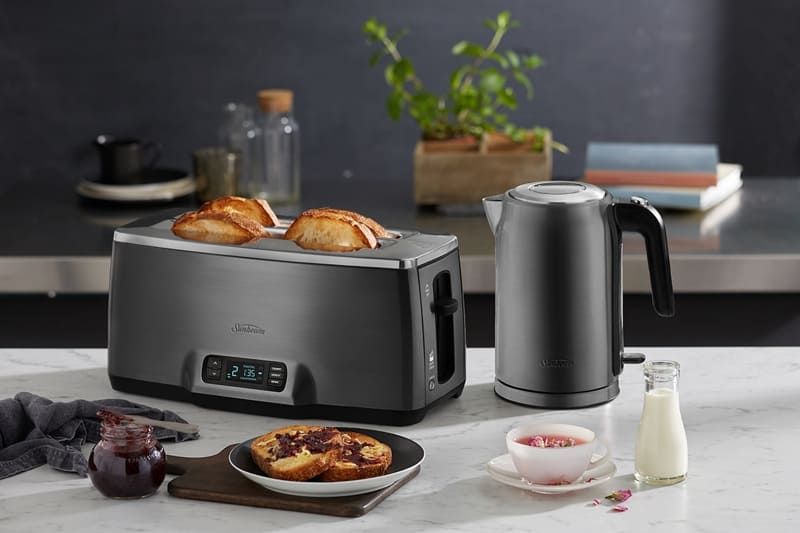 Quality Home Entertainment
Let mum sit back and enjoy all her favourites on a bigger screen with some of the latest TVs from Samsung, like the Q95T QLED 4K Smart TV. Mum can enjoy all her TV shows, movies and more in vividly clear 4K Resolution while the new Object Tracking Sound brings the sound experience to her! The wide viewing angle means no matter where mum's sitting, she's got the best seat in the house.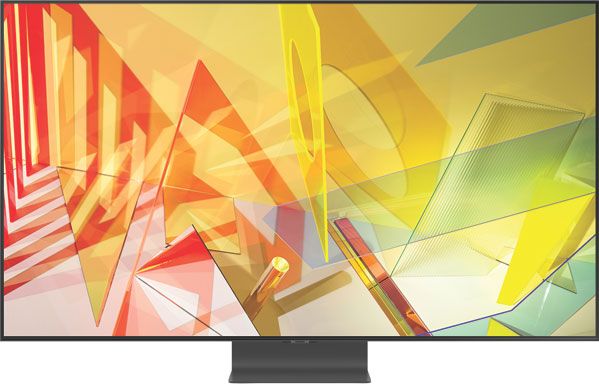 Bake up a Storm
If you're spending time at home with mum, nothing says quality time like some baking. Versatile and powerful, get mum KitchenAid's Hand Mixer to tackle any baking task. Featuring a 'Soft Start™' feature, 9 speed settings and all the necessary inclusions like beaters, whisk and dough hook attachments, mastering any recipe is easy!
Now that you're whisked the perfect batter, pop it into Smeg's stunning Linea 60cm Pyrolytic Oven and you're on the way to enjoying your baked goods. Boasting a 79L capacity, 15 cooking functions and pyrolytic self-cleaning, this is an oven you'll want to keep coming back to. With a beautiful Black Stopsol® glass, this oven will look great in mum's kitchen!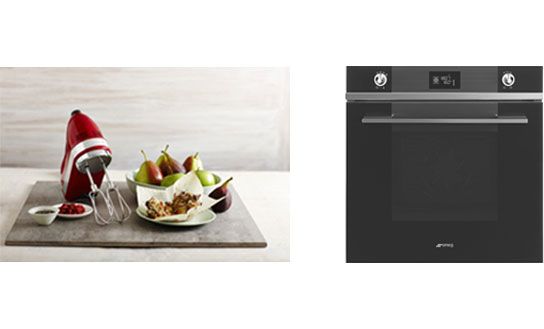 Start baking today! Test run KitchenAid's Hand Mixer with this Apple Pear Goji & Chia Muffins recipe:
Prep Time: 5 Minutes
Cooking Time: 30 Minutes
Makes 8
Ingredients
• 100ml vegetable oil
• 1 cup (220g) Greek style yoghurt
• 2 large eggs, at room temperature
• 1 large green apple, unpeeled, chopped into 2cm chunks
• 1 large pear, unpeeled, chopped into 2cm chunks
• 100g dried figs, (about 7), very thinly sliced
• 1/3 cup (55g) cup chia seeds
• 1/4 cup (35g) rolled oats
• 1 cup (135g) plain flour
• 1 cup (145g) wholemeal flour
• 1 1/2 tbsp baking powder
• 1/2 tsp mixed spice
• 1/2 cup (75g) brown sugar
• 1/2 cup (110g) white sugar
• 1/3 cup (35g) Goji berries
• topping extras: 2 tbs chia seeds, 3 tbsp oats and 4 thinly sliced figs
Method
1. Preheat oven to 200°C (180°C fan forced). Grease and/or line 8 holes in a Texas sized muffin pan. Attach the whisk attachment to the motor body. Place the oil, eggs and yoghurt into a mixing bowl or jug. Place the whisk into the mixture turn to speed 5 and whisk 8 seconds. Set aside.
2. Place flours, baking powder, chia seeds, oats, spices, sugars and Goji berries into a large mixing bowl. Attach the turbo beaters to the hand mixer. Place beaters into the flour and turn to speed 2. Mix around the bowl combining well for 10 seconds.
3. Pour the egg mixture into the dry ingredients then add the chopped fruits. Place the beaters into the mixture, turn to speed 2 and mix, slowly moving the beaters around the bowl for 10 seconds or until just combined. Spoon filling into the muffin holes filing them 3/4 full. Sprinkle some of the topping ingredients onto each muffin.
4. Bake 25 – 30 minutes or until springy when pressed and golden brown. Remove from the pan and place on a cooling rack.
Relax with A Coffee
Sit back and relax with mum or do it over video call with a coffee break. Let the aroma of fresh coffee fill the house as you (or mum) crafts the perfect cup with Delonghi's La Specialista Pump Coffee Machine. The Sensor Grinding Technology provides the right coffee dose while the independent heating systems ensures your coffee and milk are heated at optimum temperatures. If mum loves a break with a Latte or Cappuccino, she'll love the Advanced Latte System and powerful steam wand that creates smooth and silky hot milk.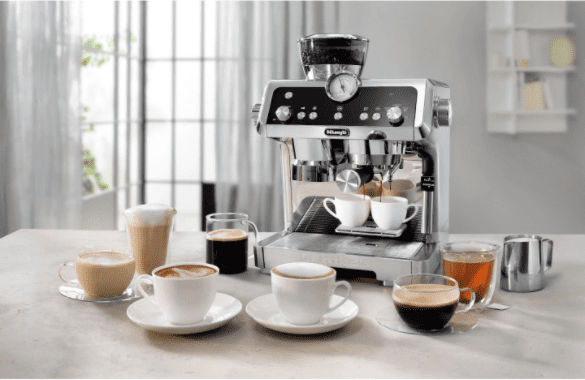 Music to Her Ears
No matter where mum is, from the lounge to the backyard, mum can indulge in her favourite FM radio stations or discover a wide range of genres as she tunes into Pure's Elan E3 Digital Radio.
The intuitive user controls, 2.8" colour touch display and 40 station pre-sets means mum will always find something to listen to! The radio is stylish and portable, so mum can take it anywhere with her.
Spoil mum this Mother's Day. From quality time together to a session over video call or a nice delivery surprise, you'll find something to brighten mum's day with our Mother's Day gift guide. Click on the link below to view all featured products, view images, read reviews and find your local retailer today!