Maple and Bourbon Glazed Ham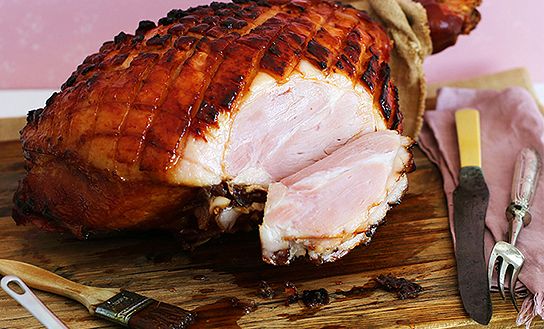 INGREDIENTS
1 free-range ham (about 7 kg), skin removed, fat scored (see note)
250 ml maple syrup
40 ml Bourbon
2 tsp Dijon mustard
2 tsp sea salt
2 tbsp red wine vinegar
METHOD
1.
For the glaze, simmer maple syrup in a medium saucepan over medium-high heat for 10 minutes until caramelised (maple syrup will bubble up a lot). Remove from heat and carefully add Bourbon, mustard, salt and vinegar, whisk to combine and set aside.
2.
Preheat oven to 180°C Fan.
3.
Place the ham in a roasting tin with 1 cup of water and brush ham with the glaze. Cook for 1 ½ hours, glazing every 20 minutes. Rest ham for 30 minutes before carving.
NOTE: To skin the ham, use a sharp knife to score around the shank, then peel back the skin, being careful not to tear away the fat. With a small sharp knife, score the fat evenly in a diamond pattern, taking care not to cut into the flesh.
View The Falcon Range