Christmas Pudding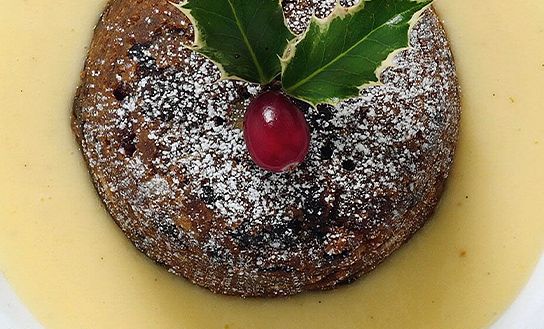 INGREDIENTS
1 orange
1 small apple
115g butter
225g soft dark brown sugar
50g flour
2 eggs
1 pinch nutmeg
1/4 tsp ground cinnamon
1/4 tsp baking powder
115g breadcrumbs
175g sultanas
175g raisins
115g currants
25g chopped mixed peel
25g chopped almonds
150ml rum
METHOD
Step 1.
Zest and juice the orange. Peel, core and grate the apple.
Step 2.
Cream the butter and sugar, add flour, eggs, nutmeg and cinnamon. Add the rest of the ingredients and stir thoroughly. The batter should have a gooey consistency.
Step 3.
Pour batter into a pudding mould (or you could use 8 individual moulds), cover with baking parchment and tie tightly.
Step 4.
Cook on shelf level 2 on Steam setting 3 at 99°C for 120 minutes.
Step 5.
Serve the warm pudding with vanilla custard and garnished with edible berries, and perhaps a sprig of festive holly.
Chef's Secret
The classic pudding mould is hollow on the inside, allowing the cake to bake evenly. If you use a solid shape, extend the time up to 150 minutes.
View The AEG Range