Barbecue French Toast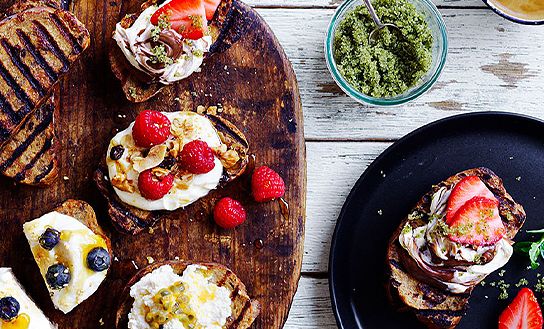 INGREDIENTS
French Toast
1x 520g loaf fruit bread
3 eggs, lightly beaten
1/2 cup milk
1 tbs caster sugar
50g butter, melted
1/3 cup Nutella
1/2 cup labna (see tip)
250g strawberries, sliced
Mint Sugar
2 tbs white sugar
1 tbs mint leaves
METHOD
1.
For the mint sugar, process sugar and mint until finely chopped. Set aside.
2.
Cut eight, 2cm-thick slices from the fruit loaf.
3.
Whisk the eggs, milk and sugar together in a large shallow dish. Add the fruit loaf one piece at a time, turning to coat both sides. Drain excess then transfer to a tray.
4.
Preheat the BBQ on high then turn to medium ready to grill.
5.
Brush both sides of the bread with butter. BBQ for 2-3 minutes on each side or until lightly charred. Remove to serving plates.
6.
Swirl the Nutella and labna together and spoon over the French toast. Top with strawberries and sprinkle with mint sugar.
Other Topping Options
1.
Beat 150g piece fresh ricotta with 1 tbs icing sugar and 1 tsp vanilla extract until soft and creamy. Spread over the French toast and drizzle with fresh passionfruit pulp.
2.
Swirl 1 tbs maple syrup and 1 cup thick Greek yoghurt together. Dollop over the French toast then top with fresh raspberries and a heaped spoonful toasted granola.
3.
Swirl 1 tbs honey and 1 cup thick Greek yoghurt together. Dollop over French toast then top with fresh blueberries and a sliced banana. Drizzle with extra honey and sprinkle with toasted sesame seeds.
Beefeater Tip
It's easier and cheaper to make your own labna. Spoon 500g Greek yoghurt into a sieve lined with muslin. Press the muslin over the yoghurt to cover. Place over a bowl in the fridge. Leave for 6 hours or overnight if time permits.
View The Beefeater Range