Baked Ocean Trout with Parsley Macadamia Butter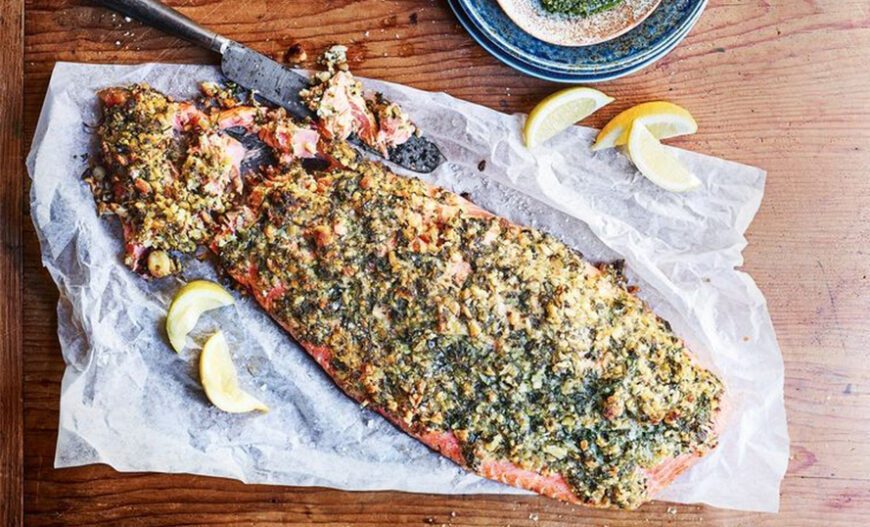 Baked Ocean Trout
200g unsalted butter, softened
1 cup (150g) macadamias, roasted, chopped
Finely grated zest and juice of 1 lemon, plus extra wedges to serve
1 1/2 cups firmly packed flat-leaf parsley leaves, chopped, plus extra to serve
1.2kg side ocean trout (skin on), pin-boned
Macadamia Pesto
2/3 cup (100g) macadamias, roasted
1 cup loosely packed dill fronds
1 cup firmly packed flat-leaf parsley leaves
1 cup firmly packed coriander leaves, plus extra to serve
1/4 cup (60ml) extra virgin olive oil
Finely grated zest and juice of 1 lemon
Prep Time: 10 mins
Cook Time: 20 mins
Serves: 8
Recipe by: Shannon Bennett
METHOD
Step 1.
Preheat oven to 180°C. Grease a large baking tray and line with baking paper.
Step 2.
Place butter in a food processor and whiz until spreadable. Add macadamia, lemon zest and juice, parsley and a pinch of salt flakes, and pulse until nuts and parsley are roughly chopped.
Step 3.
Place fish, flesh-side up, on prepared tray and spread evenly with butter mixture. Place tray on top rack of oven, and roast, basting with butter mixture occasionally, for 15-20 minutes for medium, or until cooked to your liking. Stand for 10 minutes to rest.
Step 4.
Meanwhile, for macadamia pesto, whiz all ingredients in a food processor until finely chopped. Season well.
Step 5.
Transfer fish to a serving platter and scatter with extra parsley and coriander. Serve with pesto and lemon wedges.