4 Simple Yet Fun Recipes to Try This Halloween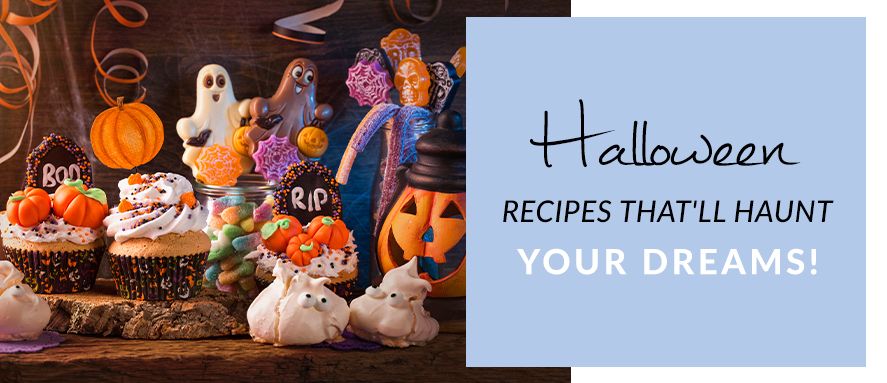 Trick or treat?
It's October, which means the spooky season is here!
If you're planning on attending or hosting a Halloween party, it's time to turn your kitchen into a cauldron of creativity. So, throw on your apron, embrace the occasion, and bake some hauntingly delicious treats!
To guide you, we've conjured up four simple yet fun and delicious Halloween Recipes that are sure to impress your Halloween party – enjoy!
Recipe #1 Little Cakes of Horror
Serve up to 12 Halloween party guests with these cupcakes and decorate them with gooey "worms" or gory "eyeballs" for a spooky finish – they're sure to be a hit!
Ingredients:
Cupcakes:
125-gram butter, softened
1 teaspoon vanilla extract
3/4 cup (165g) caster sugar
2 eggs
1 1/2 cup (225g) self-raising flour
1/2 cup (125ml) milk
Butter and Cream:
185-gram butter, softened
2 1/4 cup (360g) icing sugar
2 tablespoon milk
green and red food colouring
Decorations:
36 (120g) sour worms
6 large white marshmallows
6 black sweets
white writing icing
Equipment:
Method:
Preheat your Bosch HBT578FS1A Oven to 180°C and line a 12-hole (1/3 cup/80ml) muffin pan with paper cases.
Cream butter, vanilla, and sugar until fluffy. Add eggs one by one, mixing well.
Combine sifted flour and milk in two batches. Fill paper cases and bake for 15-20 mins.
Cool cakes on a wire rack, top-side up.
Beat butter until white; gradually add half the sifted icing sugar, milk, and then the rest.
Divide Butter Cream, tint one bowl green, and the other red.
Hollow six cakes, spread green Butter Cream and add sour worms.
Spread red Butter Cream on the remaining cakes. Top with trimmed marshmallows for eyes, and position sweets as pupils.
Pipe white icing veins around the eyes.
Uniced cakes freeze well. Not suitable for microwaving.
Recipe modified from NZ Woman's Weekly.
Recipe #2 Bandaged Mummies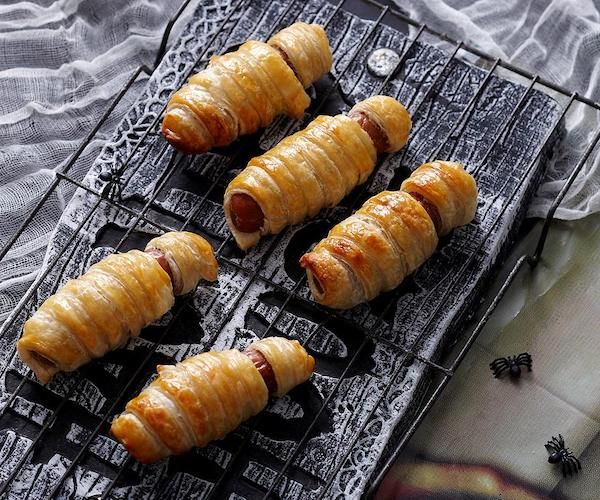 Looking to bake a last-minute Halloween Recipe before your Halloween Party? Feed 16 people with this quick and easy treat in only half an hour!
Ingredients:
1 sheet of frozen butter puff pastry
16 beef chipolatas sausages
1 egg yolk, lightly beaten
tomato chutney to serve (optional)
Equipment:
Method:
Preheat your Bosch HBT578FS1A Oven 200°C and line the oven tray with baking paper
Cut the pastry sheet evenly into 16 long strips and wrap each strip around a sausage, leaving a gap towards one end to resemble a 'mummy'.
Transfer to tray. Brush with egg. Bake for 15-20 minutes until cooked, crisp, and golden. Serve with tomato for an extra gory blood-like presentation.
Recipe modified from NZ Woman's Weekly.
What is the Bosch HBT578FS1A Series 6 Built-in Oven?
The Bosch HBT578FS1A Oven features a meat probe for precise roasting temperature, an AutoPilot 30 setting with 30 automatic programs, and a user-friendly White LCD display for easy access to the oven's functions and temperature recommendations. It also boasts a simplified cleaning experience with pyrolytic self-cleaning and a stylish stainless-steel aesthetic.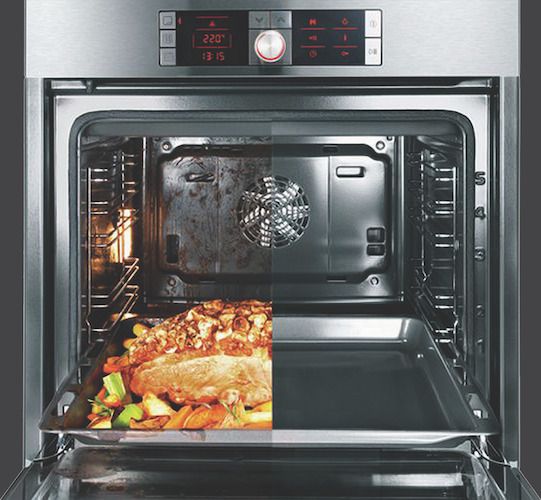 Recipe #3 Ghoulish Coffee Cocktail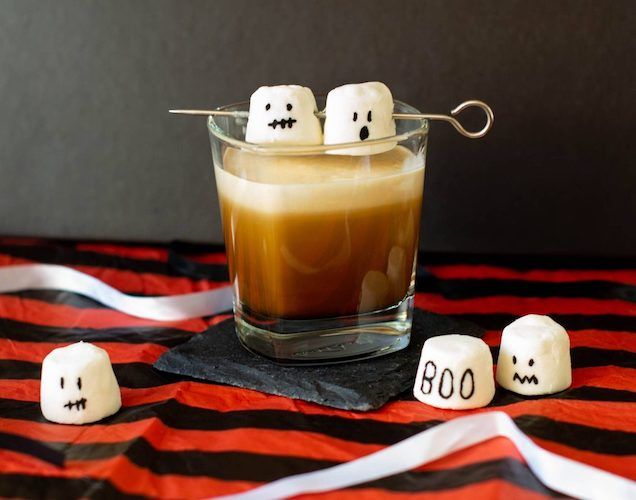 Looking to host an older crowd this Halloween? Try this coffee-based Halloween cocktail recipe. Just like the scariest movies, it's 18+ only!
Ingredients:
2 shots of espresso, cooled
2 tbsp Kahlua
2 tbsp vodka
4 tbsp double cream
Decorations:
White marshmallows
Black food colouring or black edible ink pens
Equipment:
Method:
Make your coffee. Pull two shots of espresso using your Sunbeam Barista Espresso Coffee Machine and then cool.
Meanwhile, decorate the marshmallows. Either use your edible ink pen or dot a cocktail stick in a tiny amount of food colouring to draw Halloween-themed shapes on the marshmallows. Slide onto cocktail sticks and set aside.
For the cocktail, mix the cooled coffee, Kahlua and vodka and pour out equally between the two glasses.
Whip the cream ever so slightly. Carefully pour it over the back of a spoon so it settles on top of the coffee mixture.
Add the spooky marshmallows to decorate and enjoy!
Recipe modified from Two Chimps.
Recipe #4 Bloody Beet Latte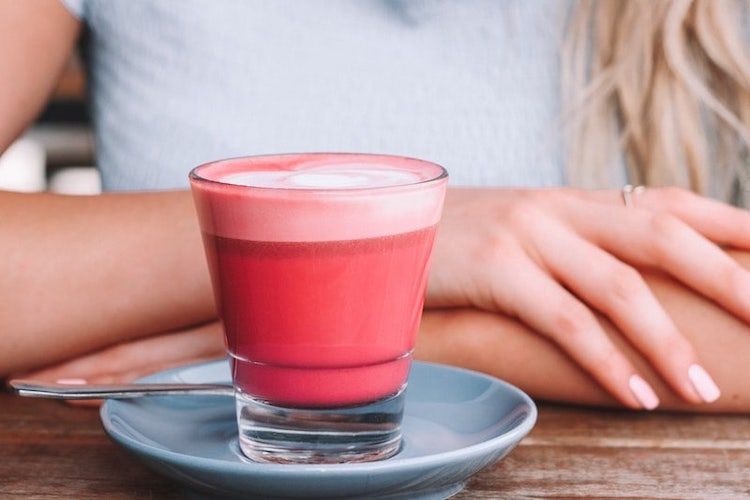 Add some more beet powder or extra food colouring to this coffee recipe for a haunting Halloween treat.
Ingredients:
1 shot espresso or ¼ cup brewed coffee
2 tablespoons beet powder
1 tablespoon water
1 teaspoon maple syrup or honey
½ teaspoon cinnamon
1 cup milk
Red food colouring (optional)
Equipment:
Method:
Make your coffee. Pull one shot of espresso using your Sunbeam Barista Espresso Coffee Machine.
Add the beet powder, water, and maple syrup to the saucepan. Heat over medium-low, stirring regularly, until well blended and warm.
Add ¾ cup milk to the saucepan, reserving ¼ cup to be frothed. Stir often and heat until the creamy mixture is hot.
Froth the remaining milk using a whisk or steam wand.
Pour the espresso into your large coffee mug. Then add the beet and milk mixture with some red food colouring for some extra effect. Top with the frothed milk.
Sprinkle on your cinnamon and enjoy your bloody beet latte!
Recipe modified from Coffee Affection.
What is the Sunbeam Barista Max Pump Espresso Coffee Machine?
The Sunbeam Barista Max Pump Espresso Coffee Machine will elevate your coffee game at home with Temp° IQ Shot Control™, and a 58mm group head for optimal flavour. Froth milk with the steam wand and enjoy easy cleaning for a barista-grade coffee experience each morning.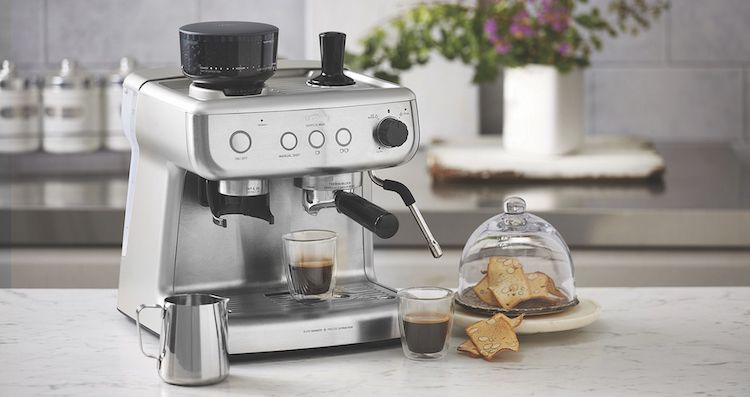 Looking to purchase the equipment you need for these Halloween Recipes?
Surprise your party guests with these four simple yet fun Halloween recipes for October. It's time to get cooking with the right kitchen tools so you can get more treats and fewer tricks!